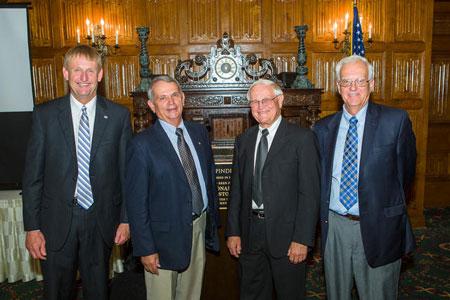 The Kentucky Agricultural Leadership 
Program (KALP) and its predecessor, the Philip Morris Agricultural Leadership Development Program have been in existence since 1985, preparing participants to accept leadership responsibility in agriculture, agribusiness and rural communities. By improving communication skills, broadening understanding of major policy issues, especially issues facing agriculture and rural communities, and gaining an understanding of the effects of internationalization (globalization) on agriculture and rural communities, program graduates gain the self awareness and confidence to be an effective leader.
Over 300 individuals have graduated from the program. Lists of class alumni can be accessed on our Alumni page. Dr. Randall Barnett served as the director of the program from 1985 to 1995 (Classes I - IV). Dr. Larry Jones directed Classes V - VIII from 1996 to 2009. Dr. Will Snell and Dr. Steve Isaacs now serve as co-directors of the program.